SPECIES DIVERSITY AND COMPOSITION DRIVE THE AESTHETIC VALUE OF CORAL REEF FISH ASSEMBLAGES.
Tribot, A.S, Deter, J., Claverie, T., Guillhaumon, F., Villeger, S., & Mouquet, N. (2019).
Biology letters, 15, 20190703, doi:10.1098/rsbl.2019.0703
Key message : Using an online survey, we disentangled the effects of different facets of biodiversity on aesthetic preferences of coral reef fish assemblages that are among the most emblematic assemblages on Earth. While we found a positive saturating effect of species richness on human preference, we found a net negative effect of species abundance, no effect of species functional diversity and contrasting effects of species composition depending on species' attractiveness. Our results suggest that the biodiversity-human interest relationship is more complex than has been previously stated.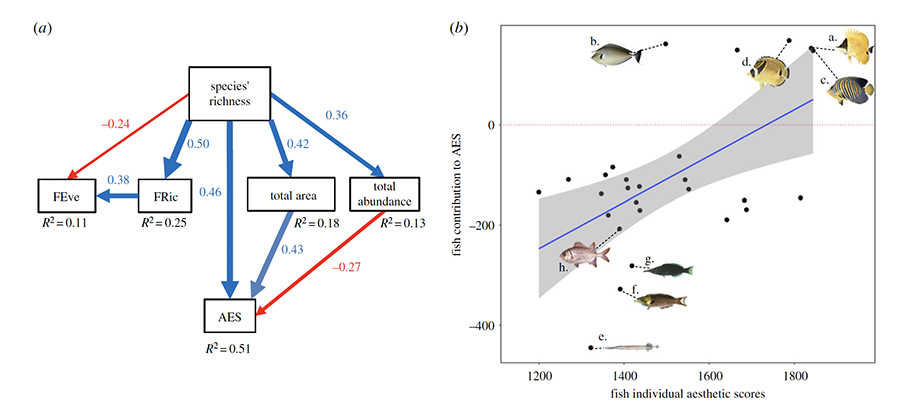 ((a) Final SEM. Solid arrows indicate significant paths ( p < 0.05); width of the arrows is proportional to the magnitude of the standardized path coefficient (numbers on arrows); colours indicate the sign of the coefficient (blue for positive and red for negative). R2 values are shown for dependent variables. (b) Relationship between fish species individual AES and the contribution of each fish species to aesthetic values. We represent the four species with higher (a. Forcipiger longirostris, b. Naso unicornis, c. Pygoplites diacanthus and d. Chateodon lunula) and lower (e. Aulostolus chinensis, f. Thalassoma amblycephalum, g. Gomphosus caeruleus and h. Myripristis violacea) contribution to AES. Photographs: J. E. Randall (FishBase.org).