CONFRONTING SPECIES AESTHETICS WITH ECOLOGICAL FUNCTIONS IN CORAL REEF FISH.
Tribot, A.S.,Mouquet, N., Villeger, S., Raymond, M., Hoff, F., Boissery, P., Holon, F., Deter, J. (2016).
Scientific Reports, doi:10.1038/srep34229
Key message : In this study we evaluated how the aesthetics of coralligenous reefs, a key marine ecosystem in the Mediterranean, is perceived by the general public and how aesthetic preferences are related to biodiversity facets. We performed both biodiversity measures and online-surveys of aesthetic perception on photographic quadrats. Our results show that species richness and functional richness have a significant positive effect on aesthetic value. Our results illustrate that cultural facets, such as beauty, should also be central in our motivations to preserve ecological diversity.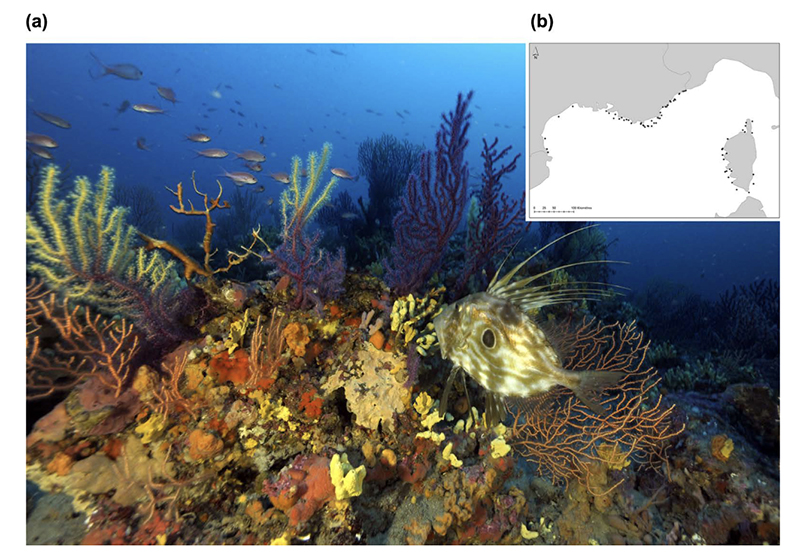 (a) Coralligenous assemblage in the Mediterranean. Copyright: Laurent Ballesta for Andromede Oceanologie/Agence de l'eau RMC: Campagne RECOR 2011. Photograph taken by Laurent Ballesta. (b) Map of the 113 stations sampled in the French Mediterranean. Stations ranged from −20 to −90 m deep. Each station was sampled by three photographic quadrats taken at the same depth.