DISENTANGLING THE ROLE OF CONNECTIVITY, ENVIRONMENTAL FILTERING, AND SPATIAL STRUCTURE ON METACOMMUNITY DYNAMICS.
Moritz, C., Meynard, C.N., Devictor, V., Guizien, K., Labrune, C., Guarini, J.M., & Mouquet N. (2013).
Oikos, 122, 1401-1410, doi: 10.1111/j.1600-0706.2013.00377.x
Key message : Here, we quantified the relative importance of flow connectivity, geographic distance, and environmental gradients to explain polychaete metacommunity structure along the coasts of the Gulf of Lions (northwest Mediterranean Sea). Flow connectivity was estimated by Lagrangian particle dispersal simulations. Our results revealed that this metacommunity is strongly structured by the environment at large spatial scales, and that both fl ow connectivity and geographic distance play an important role within homogeneous environments at smaller spatial scales. We thus strongly advocate for a wider use of connectivity measures, in addition to geographic distance, to study spatial patterns of biological diversity (e.g. distance decay) and to infer the processes behind these patterns at different spatial scales.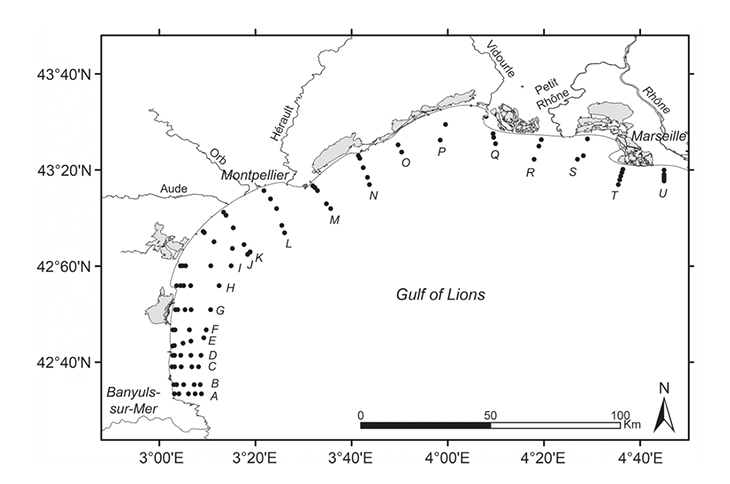 Location of the 92 sites sampled during the oceanographic campaign in 1998. Transects were located along the Gulf of Lions, between the French-Spanish border and the eastern part of the Rhone River. Stations were located between 10 and 50 m water depth. Adapted from Labrune et al. (2007).