GLOBAL DISTRIBUTION AND CONSERVATION STATUS OF ECOLOGICALLY RARE MAMMAL AND BIRD SPECIES.
Loiseau N*, Mouquet N*, Casajus N, Grenie M, Gueguen M, Maitner B, Mouillot D, Ostling A, Renaud J, Tucker C, Velez L, Thuiller W, and Violle C. (2020) * These authors contributed equally to this study
Nature Communication, 11, 5071 doi:10.1038/s41467-020-18779-w
Key message : Identifying species that are both geographically restricted and functionally distinct is of prime importance given their risk of extinction and their potential contribution to ecosystem functioning. We use global species distributions and functional traits for birds and mammals to identify the ecologically rare species, understand their characteristics, and identify hotspots. We find that ecologically rare species are disproportionately represented in IUCN threatened categories, insufficiently covered by protected areas, and for some of them sensitive to current and future threats. Altogether, these results state that more conservation emphasis should be given to ecological rarity given future environmental conditions and the need to sustain multiple ecosystem processes in the long-term.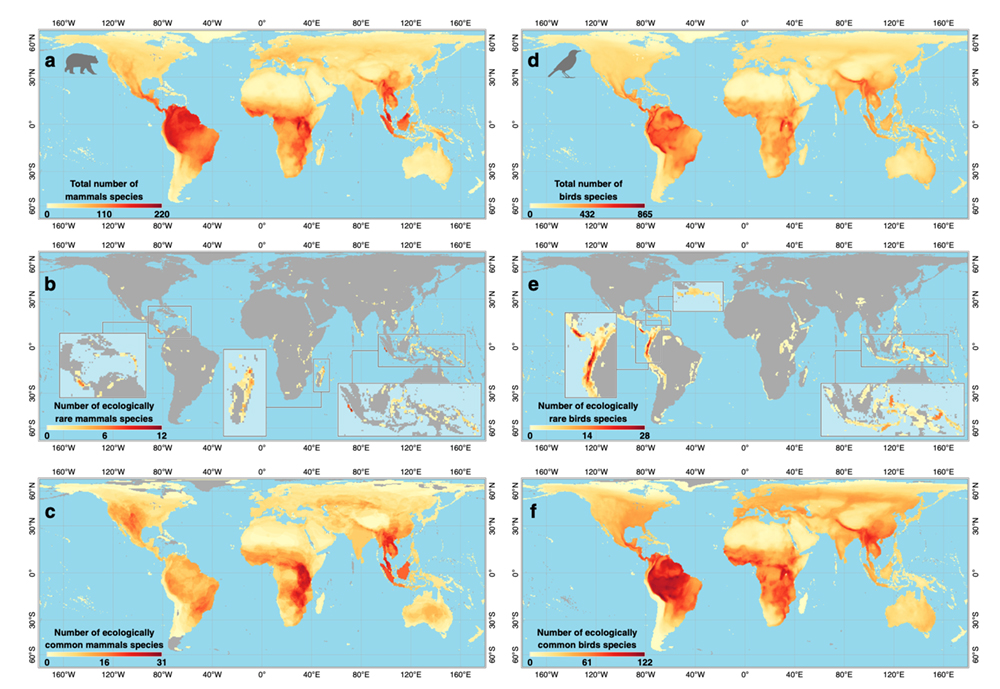 Global distribution of mammal and bird species considering only unglaciated areas. a–c Distribution of total species richness, number of ecologically rare and common mammals, and d-f distribution of total species richness, number of ecologically rare and common birds.