ON THE RELATIVE IMPORTANCE OF SPACE AND ENVIRONMENT IN FARMLAND BIRD COMMUNITY ASSEMBLY.
Henckel, L., Meynard, C.N., Devictor, V., Mouquet, N.& Bretagnolle, V. (2019).
PloS one 14 (3), e0213360, doi:10.1371/journal.pone.0213360
Key message : We investigated the influence of ecological processes on metacommunity dynamics in intensively managed agricultural landscapes. Using high-resolution data from 260 plots, we used metacommunity pattern analysis to identify assembly drivers, and variation partitioning to separate the effects of environment and geography. We found a significant role of stochasticity, and an relative influence of environmental filtering and dispersal which varied across the scale of analysis. Breaking down our analysis by bird functional classes and habitat types emphasized the importance of wooded areas as key sources for specific bird species. Our research highlights the benefit of analyzing species assemblies through various lenses to better understand community assembly mechanisms.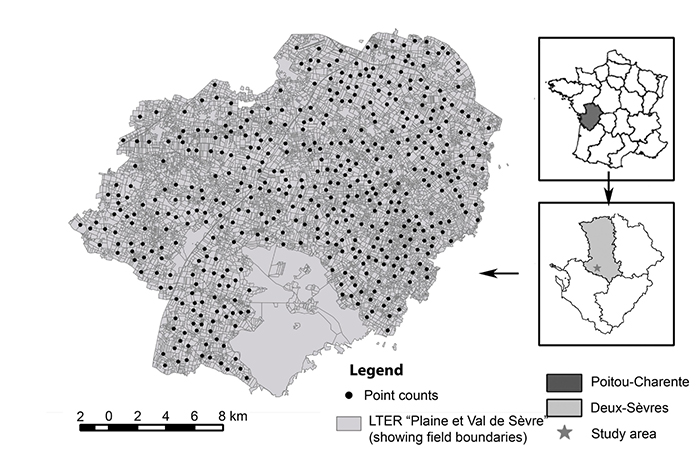 Location of the LTER Plaine et Val de Sevre (study area) and positions of the 260 point count stations (approximately one per square kilometer). These stations are distributed fairly evenly over the whole study area. Breeding birds were surveyed on all locations using point counts spread over the whole study. In total, 95 bird species were recorded.