SPATIAL MISMATCH AND CONGRUENCE BETWEEN TAXONOMIC, PHYLOGENETIC AND FUNCTIONAL DIVERSITY: THE NEED FOR INTEGRATIVE CONSERVATION STRATEGIES IN A CHANGING WORLD.
Devictor V., Mouillot D., Meynard C.N., Jiguet F., Thuiller W., and Mouquet N. (2010).
Ecology Letters, 13, 1030-1040, doi:10.1111/j.1461-0248.2010.01493.x
Key message :Functional and phylogenetic diversity are increasingly quantified in various fields of ecology and conservation biology. The need to maintain diversity turnover among sites, so-called beta-diversity, has also been raised in theoretical and applied ecology. In this study, we propose the first comprehensive framework for the large-scale mapping of taxonomic, phylogenetic and functional diversity and of their respective turnover. Using high-resolution data on the spatial distribution and abundance of birds at a country scale, we disentangled areas of mismatches and congruencies between biodiversity components. We further revealed unequal representation of each component in protected areas: functional diversity was significantly under-represented whereas taxonomic diversity was significantly over-represented in protected areas. Our results challenge the use of any one diversity component as a surrogate for other components and stress the need to adopt an integrative approach to biodiversity conservation.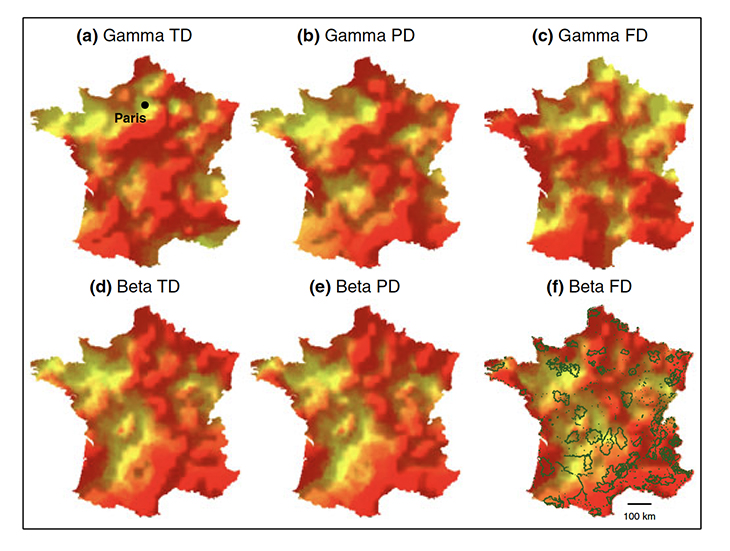 Spatial distribution of taxonomic, phylogenetic and functional diversity and their relative turnover. (a-c) Maps of taxonomic, phylogenetic and functional gamma diversity, respectively (10 quantile intervals from yellow to dark red). (d-f) Maps of diversity turnover (beta diversity) for each respective component. (f) The protected area network boundaries are drawn on the map of functional turnover.