ANCHORING PRESSURE AND THE EFFECTIVENESS OF NEW MANAGEMENT MEASURES QUANTIFIED USING AIS DATA AND A MOBILE APPLICATION.
Bockel T., Marre G., Delaruelle G., Holon F., Boissery P., Blandin A., Mouquet N., Deter J. (2023).
Marine Pollution Bulletin 195, DOI:10.1016/j.marpolbul.2023.115511
Key message : The anchoring preference of large boats and their impacts has been mapped using Automatic Identification System (AIS). We found a constant increase in the number of anchoring events with, until recently, a large part within the protected Posidonia oceanica seagrass meadows. The number of large ships (>24 m) anchoring in P. oceanica meadows has significantly decreased after the enforcement of the regulation adopted by the French authorities in 2019 (forbidding any anchoring within P. oceanica seagrass meadows for boats larger than 24 m). The surface of P. oceanica seagrass meadows saved by the new regulation corresponds to 134 to 217 tons of carbon sequestered in 2022. This work illustrates that a strict regulation of anchoring, based on accurate habitat maps, is effective in protecting seagrass meadows.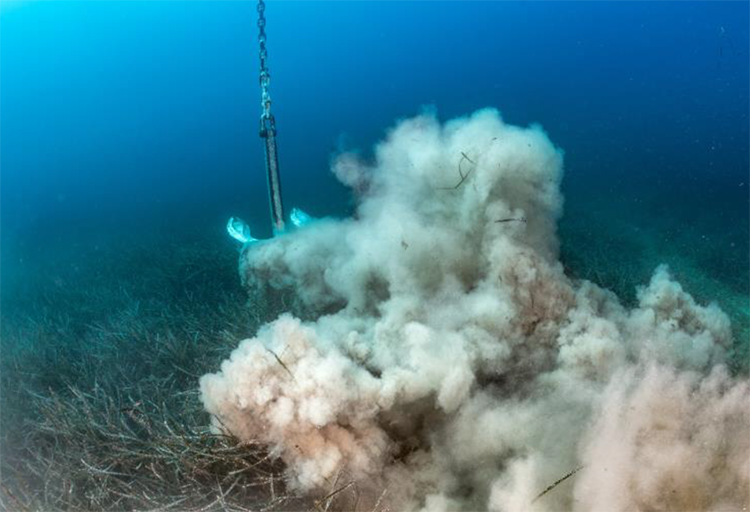 Posidonia oceanica is an endemic species that forms large meadows between the surface and approximately 40 m deep in the Mediterranean Sea. P. oceanica is very sensitive to anchoring pressure. Photo (c) Andromede oceanologie.